Complete dental hygiene offer - 250 RON
Offer available till 30.09.2023
Useful information about dental prevention
If you want to get rid of stains caused by dyes, coffee and tobacco - come to DentArbre Dental Clinic! We help you keep your teeth clean and prevent cavities with the help of the complete hygiene package: we offer descaling, professional brushing, dental air flow, dental fluoridation.
Step 1 – Ultrasonic descaling
What is descaling?
Ultrasonic descaling is a treatment to remove dental tartar deposits and bacterial plaque with the help of an ultrasound device.
How is professional descaling done?
With the help of a metal handle that vibrates, and the vibrations produced lead to the disintegration of tartar, and the ultrasonic action together with the water jet used simultaneously removes the residues.
The benefits of descaling
reducing the risk of dental caries; preventing the development of bacterial plaque; preventing the occurrence of gingival retraction; reducing gingival bleeding; more aesthetic appearance of the oral cavity; avoiding the occurrence of periodontal disease; eliminating one of the main causes of halitosis;
Step 2 – Professional brushing
Professional brushing completes descaling and involves removing the remains of bacterial plaque. tartar and stains on the teeth. Professional brushing is done with the help of the handpiece, with a brush and a special paste, which cleans and polishes the surface of the teeth.
Step 3 – Airflow
Dental air flow. This procedure involves removing the last remnants of plaque and tartar from the tooth surfaces, as well as from the interdental space, using a jet of water, air and baking soda. With the help of airflow, small impurities left after descaling and brushing are cleaned, polished and removed.
Step 4 – Fluoridation
Fluoridation is aimed at preventing carious lesions as well as remineralizing incipient lesions.
It is recommended to carry out hygiene procedures once every 6 months, and for patients with dental implants once every 3 months. You're welcome!
Reserve the offer
Complete sanitization package
Ultrasonic descaling + professional brushing + airflow + oral hygiene instruction
250 RON
Appointment
Other offers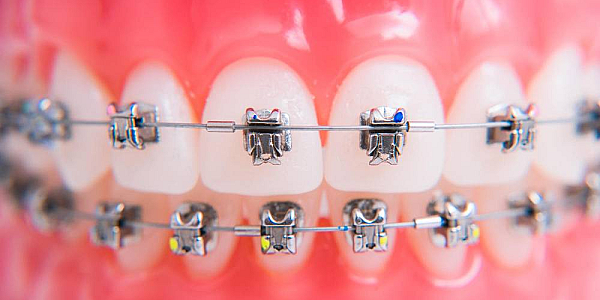 Offer Fixed Dental Braces
Price of metal braces / arch – 2200 lei Price of ceramic dental braces / arch – 3000 lei Sapphire dental braces price / arch – 3500 lei Damon dental braces price / arch – 4000 lei